Sometimes the road less traveled isn't a road.
What's the secret to the perfect outdoor experience? Just add water! Georgia's Park Paddlers Club offers an abundance of scenic waterways (22 miles total) to explore, for both seasoned paddlers and wet-behind-the-ears beginners.
---
Get a Card, Earn a T-Shirt
To join the Park Paddlers Club, stop by one of six participating state park offices and purchase a $10 membership card, or buy a card online. Some sites may be affected by drought conditions and low water. Please make sure to call ahead and verify that the water trail is open. All members must know how to swim, children must be 3 years of age or older, and personal flotation devices are required for everyone. You may bring your own canoe, kayak or stand-up paddleboard. Some sites or local outfitters provide rentals. After visiting all 6 parks and paddling 22 miles, members earn their own t-shirt and bragging rights.
---
Participating Parks
A 5-mile day trip will begin at The McIntosh Reserve Park, just off Highway 5 south of Whitesburg, Georgia. Paddlers can expect to see otters, a variety of herons and water birds as well as Bald Eagles. Deer, bobcats and coyotes come to the river's edge to drink. End at the Chattahoochee Bend Day Use Area Boat Ramp, the first access with parking and vehicle access. Platform Camping is available along this route for overnight guests. NuCanoes® available for rent (no shuttle provided).
This 4-mile loop on the club's only tidal river travels through salt marsh and past sandbars. Look for dolphins, river otters, birds and perhaps even a manatee. Timing is very important for this trip. Be sure you paddle with the tide and not against it. Sit-on-top kayaks are available for rent.
Paddle 3 miles to Highway 80 (a 6-mile round trip). There is a slight current, and wind conditions may affect your speed. The lake narrows toward the bridge. To stay on the trail, follow reflectors on the trees. Pedal boat, canoe, stand-up paddleboard and kayak rentals available.
Paddle "Roundtree Run" from Red Roberts Landing to the park's main boat ramp. Club members who have a shuttle may put in at Rountree Bridge/Red Roberts Landing and paddle 3.5 miles downstream to the park. Without a shuttle, paddlers can travel from the park's main boat ramp up to Red Roberts Landing, then back to the park for a total of 7 miles. The current is typically not very strong, so traveling upstream is not very difficult. Call the park to ask about water flow. Canoe and kayak rentals available.
Paddle the Okefenokee Swamp on a 4-mile round trip to historic Billy's Island. Even in low water this trail provides breathtaking scenery. Be on the lookout for alligators, turtles and other wildlife. Paddling can be challenging on windy days. Canoe and kayak rentals available. Call the park ahead of time for water levels.
Paddle the perimeter of this pretty reservoir near Atlanta, then loop out to and around the water control tower on a 3-mile trail. Canoe, kayak, pedal boat, fishing boat and stand-up paddleboard rentals available. Call the park for more details.
---
When you have completed all 6 parks, send your card to: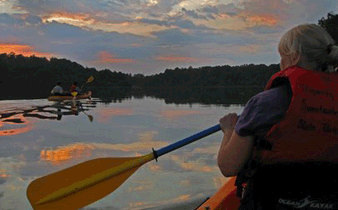 Marketing Coordinator
Georgia State Parks & Historic Sites
2600 Highway 155 SW
Stockbridge, GA 30281
Your card will be returned along with your new t-shirt.