The Go Fish Education Center takes visitors on an educational journey through Georgia's watersheds to learn about our diverse aquatic wildlife, their natural habitats and the impacts of water pollution. Beyond that, GFEC serves as a great resource of fishing information for any level of angler—where to go, what to use and when.
Visitors can:
See freshwater aquariums featuring trout, largemouth bass and more
Explore underwater habitats from mountain streams to black water swamps
View aquatic wildlife, including live alligators and turtles
Catch and release live fish in the stocked pond (poles and bait provided as a part of admission)
Try out interactive fishing and boating simulators
Try out the interactive shooting room
Get 'Reel Tips' on how and where to fish
View a high-definition movie exploring Georgia's fishing options and traditions
And so much more!
---
Hatchery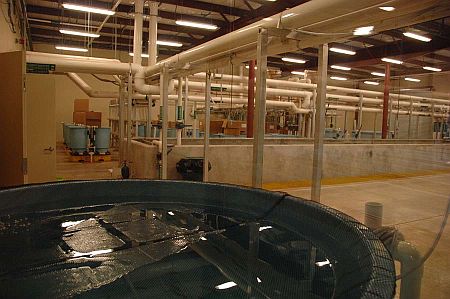 Hatcheries play a vital role in maintaining and improving the quality of fishing. Fishing for many species in Georgia fresh waters is possible because of the stocking of hatchery-reared sport fish. This new facility will help to improve the quality of fishing in Georgia.
The new indoor/outdoor hatchery at Go Fish focuses on largemouth bass production, although other fish are produced as well. The facility includes raceways for spawning, holding and treating fish and isolation and treatment tanks. Species produced at the Go Fish Education Center hatchery include: walleye, Alabama shad, smallmouth bass, lake sturgeon, and bluegill.
---
Aquarium
The Go Fish Education Center is home to a 200,000-gallon outdoor aquarium, housing over 50 species of native Georgia fish and reptiles. Visitors will find themselves starting in the North Georgia Mountains where you can find trout, walleye, smallmouth bass, and lake sturgeon. As you walk further south, you move into the Piedmont region which is home to a variety of fish species including shoal and largemouth bass, robust redhorse suckers, longnose gar, blue catfish, and a federally endangered species donated by the US Fish and Wildlife Service—Atlantic sturgeon (USFWS Permit No: 17367-01). Once you cross the "Fall Line" you will be in the Coastal Plain where you can see black crappie, white crappie, and largemouth bass. Moving deeper into the Coastal Plain, you will be greeted by the floating islands and cattails of the Blackwater swamp. Here you can view bowfin, Bessie (our largemouth bass mascot), red ear and redbreast sunfish, warmouth, and several alligator snapping turtles. As you turn the corner, don't be alarmed by three American alligators staring back at you (unless they're not behind the glass). The alligator exhibit is a favorite of our guests and a great way to end your journey through Georgia.
---
Classroom
The Go Fish Education Center classroom is home to our education programs, school field trips, Toad-ally Toddlers, and homeschool programs. In addition, the classroom is also available for birthday parties and meeting rentals. The room can accommodate 35 people seated at tables and chairs.
---
Theater
The Go Fish Education Center houses a state of the art theater where visitors can watch a movie about the importance of fishing and aquatic resources in Georgia. This 8-minute movie runs every 20 minutes and can be enjoyed by all ages. The 1200-square foot theater has accommodated a wide variety of meeting and events such as, a fishing tournament weigh-in, a wedding rehearsal dinner, corporate meetings, and Christmas events just to name a few.
---
Casting Pond
The center offers the chance for guests to catch and release live fish. The pond is stocked year-round with hybrid striped bass, bluegill, and channel catfish. Additionally, we are excited to give guests a chance to catch rainbow trout which are stocked during the winter months. Bait and tackle are provided. The use of the bait and tackle is included with the price of admission, but feel free to bring your own fishing equipment if you prefer. Georgia fishing laws and regulations apply:
Individuals 16 and over must have a valid Georgia fishing license to catch and release fish (licenses can be purchased online or at the Go Fish admission counter).
During trout harvest (March), a trout stamp is required if keeping trout.
Please refer to the Georgia Fishing Regulations for more information.